2019 STOCK OF THE YEAR
 BULL
Boots – Prairie Rodeo
SADDLE BRONC
Borrowed Angel – Prairie Rodeo
BAREBACK
Fortnight – Prime Time Rodeo
TIE DOWN
Dolly – Stacy Cornet
STEER WRESTLING
Stony – Scott Sigfusson
HAZING
Clyde – Scott Sigfusson
LADIES BARREL RACING
Flash Bang – Brooke Lang
JUNIOR GIRLS BARREL RACING
Chex – Kaybree Zunti
TEAM ROPING HEADING
Cactus – Tuftin McLeod
TEAM ROPING HEELING
Catman – Chase Simpson
– Check in will be at the rodeo office at prairie Land Park on Friday.
– There is no entry fee for the tour finale but you do need to check in at office before 6PM on Friday.
– Stall payment will be required at rodeo office
–  Weekend wrist-bands can be purchased at rodeo office for companions and family $20/weekend pass. (Tickets are $15 at the door and weekend passes will only be sold at rodeo office during check in).
– Arena will be open for riding until 5:15pm Friday and Saturday.
– Camping is available on the grounds. "No horses tied to the trailer"
– Ramada is promoting a special rate of $109.00/night. The code to use when booking is "small town tour".
– The Long Branch bar will allow contestants free cover charge and drink specials.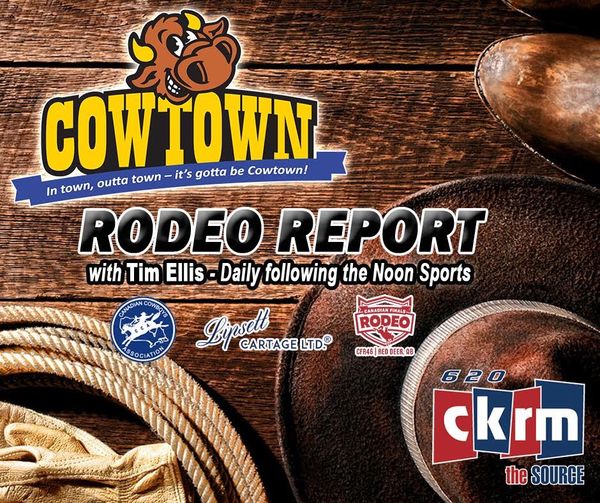 Exciting news – the Canadian Cowboys Association will be connected with the Rodeo Report on CKRM beginning July 1st! Be sure to tune in – daily following the Noon Sports. read more…
Rodeo Entry and Callback Line: 1-800-667-9444 only answered on entry day and Thursdays for call backs.

Rodeo Entry Times are 9:30 a.m. to 2:30 p.m. Saskatchewan Local Time (CST)

Turn Out / Emergency Line: 1-306-721-2705 Contestants must notify of turnout on or before 11 a.m. on the day that they are scheduled to compete by calling the turnout recording line. If this is not followed, contestant will be treated as a non-notified turnout. When you call the turnout line, state your name, number the rodeo and event you are turning out of and if you are a regular turnout, doctor's release or visible release. The turnout line is the only official notification after hours.
[ Modified: 2019-07-18 ]